The first-ever Welcome to Night Vale novel was just released today, Oct. 20. If you haven't checked out this awesome podcast, you need to. You can find it on iTunes, Stitcher, YouTube and SoundCloud.
To celebrate the book release, Black Chick Lit decided to list the reasons we love Night Vale's most well-read and kick-ass character, Tamika Flynn.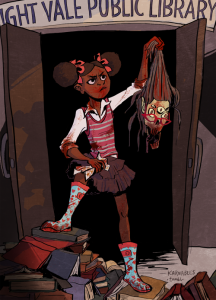 She's a leader who happens to be a black girl
It's never explicitly stated that Tamika is black, but she's definitely coded as such both by her name and voice actress. What is explicitly stated is her accomplishments as the leader of Night Vale's teenage militia, which saves the town from the horrible StrexCorp. She's a talented fighter and a powerful orator, created in the vein of Sojourner Truth or Harriet Tubman. She's an awesome example of a black female character who is brave, clever and strong, and sadly, that's not a character we get to see too often.
She's smart
Tamika is 12-years-old when she's first introduced, but she's already read Cry, the Beloved Country, Death Comes for the Archbishop and The Awakening, as well as works by Emily Dickinson, Elizabeth Barrett Browning and Booker T. Washington. She also regularly reads McSweeney's (or is at least familiar with it enough to know about the free ninja stars). This little girl is more well-read than the average college graduate.
What makes Tamika's bookish tendencies even more amazing is that books are considered dangerous by the Night Vale city council and reading is actively discouraged. I'm about to be that person and remind you of another time and place when literacy in a little black girl would have been deemed a threat.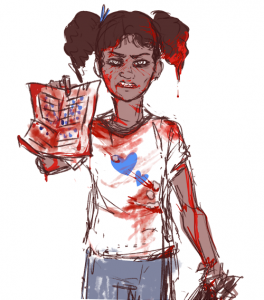 She respects books. All books. Even crappy ones.
"I love books. Take that book you're holding! It looks ill-written, ill-conceived, full of bad ideas expressed badly. I bet it lacks narrative arcs and an appreciation for the flow of language. It looks like the worst book in the history of books! But here's the thing…it's still a book. And I love books. So, you do not deserve to even hold it."
This quote is even better when you hear Symphony Sanders, Tamika's voice actress, deliver it.
She took out StrexCorp's helicopters with nothing but a slingshot
Does this need further explanation?? This is just freaking awesome.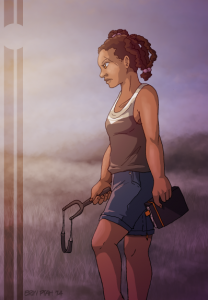 She's doesn't back down from a fight
Tamika and her militia escape from the Summer Reading Program by killing the malevolent and eyeless librarians. When she comes out of hiding after her escape, she makes her entrance hoisting a librarian's severed head while wearing a detached hand around her neck. Do not mess with Tamika Flynn.
She's humble
"I am not a hero. Or we all are. Or the word has no meaning."
Despite all of her accomplishments, Tamika remains a low-key character. She doesn't draw undue attention to herself or seek praise for her heroics. She's just a girl who knows the value of freedom and a well-written book. Read on, Tamika, and keep fighting.