What does it mean to be a black girl who reads? It means being a member of the largest demographic of readers while at the same time being among one of the most under-served demographic of readers. (Google found so many stats about this in regards to children's books. I think it's safe to assume trends for adult literature are similar.)
Let me share a story: A few months ago, I gave into the urge to visit a book store. I knew it would be a futile effort before I even left the house.
Me going to a book store is a pretty rare thing, what with Amazon, Google Play and my local libraries providing me with all my bookish needs. But it was a slow, boring Saturday afternoon, I had just rewatched Belle for the nth time and was in the mood to read something sentimental and romantic. 
(The historical setting! The black-female romantic lead! THE COSTUMES! I need this movie to be a book. I need more books like this movie.)
So, I went to the book store, headed to the romance section and saw shelves and tables full of this …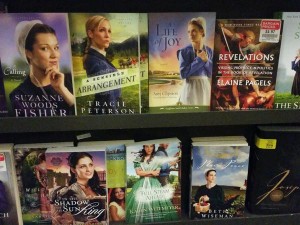 I gave up searching there and headed to the "African-American Literature" shelf (note the singular), only to be offered this …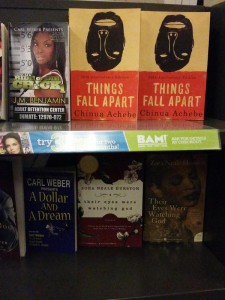 Can you see the problem? Nearly all of the romances this particular store offered featured white protagonists. Super white, as a matter of fact. I don't know what's behind the boom in Amish romances, but, yeah, that's not a genre that speaks to me.
The African-American section wasn't any better. (Let's move beyond the fact that I don't understand why most book stores separate black literature from the rest of the "mainstream" fiction. I'll come back to that, though. I promise.) Look above and you can see pretty much what every bookstore offers in terms of African-American fiction: classics written between 60 to 100 years ago and street lit.
I've read Things Fall Apart, The Color Purple and Native Son. I've read Maya Angelou, Zora Neale Hurston and most of the works of Langston Hughes. [Not to mention the fact that Chinua Achebe is not an African-American author. — Elizabeth]
I don't read street lit. I've tried it. I hate it. There's no compromising on that for me.
An entire store full of books ("millions," in fact), and I couldn't find a single title that satisfied my craving for a historical romance featuring black characters.
There are so few choices on these shelves. Where are the black historical romances? The black futuristic sci-fi? The black chick lit? These stories are out there. Why are they so hard to find?
I've always been of the mind that if I'm gonna complain about something, I should do something to fix it. So, like every avid reader/broke journalist, I've been planning to write a book of my own. Something that fills that void and presents something new. Something that gives readers another choice.
But that doesn't solve the problem that I need something to read now.
So, I created Black Chick Lit. Here, my college friend Elizabeth and I will rec our favorite titles, promote our favorite authors and bitch about our book-related struggles.
I predict there will be so much bitching. It'll be a blast.
Thanks for joining us and happy reading!
Got something you'd like for us to discuss? Leave it in the comments!