Here's the thing about me: I'm a window shopper. I like browsing around stores — online and in real life — and seeing what I can discover. Some platforms make this easy. Others do not.
Amazon falls in that latter category.
I work in the digital space and, as a result, I study websites. The same way aspiring authors are told to read like a writer, I try to view sites like a web developer. And while I'm not a user experience — or UX — expert, I know the basics of good design. Amazon's is kinda shitty. Their search function is even worse. And their African-American romance search is damn near useless.
This issue is that the label African-American romance doesn't define a book's genre or trope the way the Historical, Contemporary and Paranormal does. It merely describes the characters within the story.
Limitations of the Search Refinement
Currently, Amazon's romance genre listing has 27 sub-genres and they get pretty specific: Time Travel Romance, Sports Romance and even Holiday Romance. Check out the African-American Romance sub-genre and there are more than 15,000 individual titles. The search filters are limited to the following:
Format
Kindle Unlimited Eligible
Author
Series
Language
Prime Eligible
Promotion
Rating
International Shipping Eligible
Condition
Availability
Refining the search by format (Kindle), language (English), rating (four-star minimum) and availability does little to limit the search results. The remaining relevant filters — Author and Series — are too specific and have too many options to go through efficiently.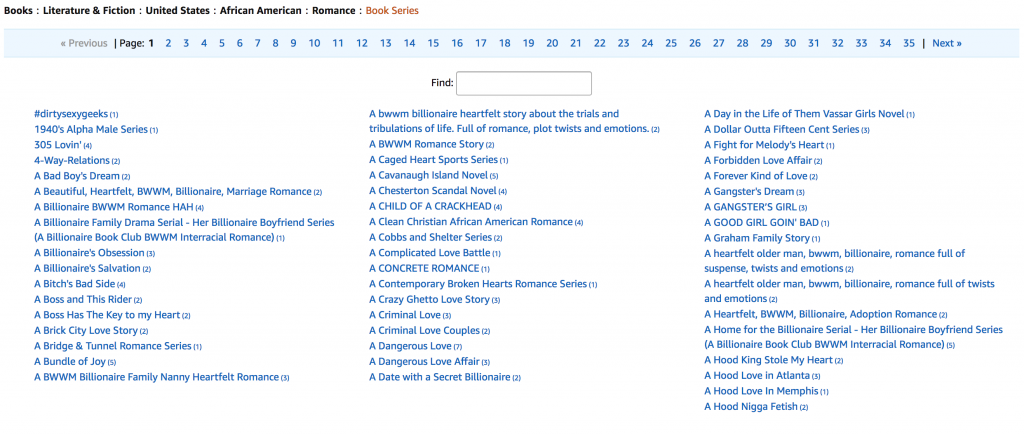 Of the eleven filters, eight of them have no significant impact on limiting or reducing the number of search results. There are still more than 8,000 titles remaining in the results. That's an overwhelming number to sift through. (Prime eligible, international shipping eligible and condition are not applicable since I'm searching through ebooks.)
It's worth pointing out that literally every other sub-genre except African-American romance allows users to search by a Romantic Hero filter and a Romantic Theme (trope) filter. Certain genres have even more helpful filters. Historical romance allows for search by era: 20th Century, Ancient World, Medieval, Regency, Scottish, Tudor, Victorian and Viking. Paranormal allows users to search books for either Werewolves and Shifters or Vampires. Erotica is broken down into BDSM, Horror, Interracial, Science Fiction, Poetic, LGBT and African American.
Titles featuring white characters aren't dumped into one catch-all romance bin. So why does Amazon do this to the titles featuring black ones?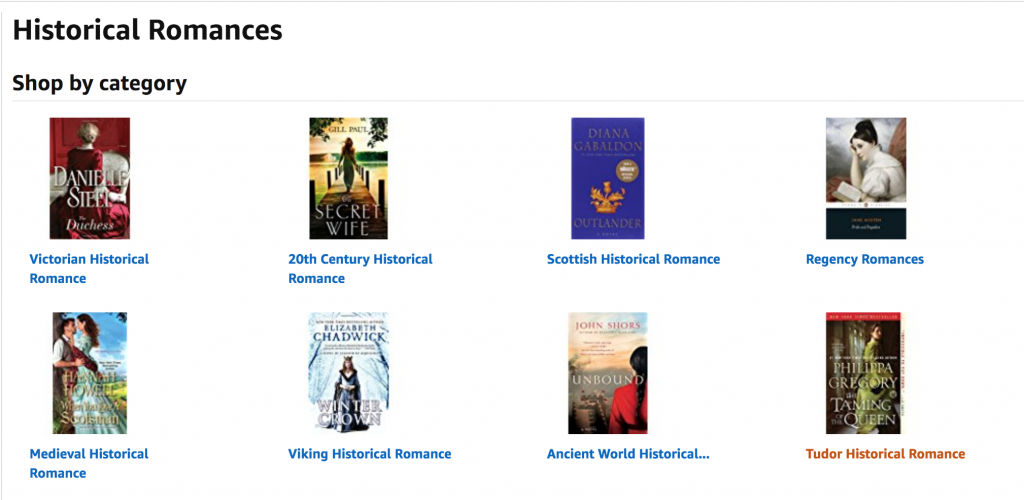 (Out of curiosity, I checked out the African-American Erotica category, and there are a little more than 3,600 titles. Using the Erotica Characters filter, I was able to narrow it down even more — to 168. Now, that's a number I can work with. This is the kind thoughtfulness and UX design that should be present throughout the site.)
Poorly Managed Genres
On top of the vagueness of the search parameters, the majority of African-American romances are misclassified. (This is a site-wide problem.) Most of the titles on the African-American romance landing page are urban lit. Use the bar at the top to search for historicals within the genre and … yep, a bunch of contemporaries load the search results. It's just sloppy.
Amazon not only needs to add effective genre filters that allow readers to drill down into results, and it needs to better manage them. Filters such as Urban, Historical, Christian/Inspirational, Contemporary, LGBT and Paranormal — along with the Romantic Hero and Romantic Theme filters the other genres have — would go such a long way at making Amazon's search more usable.
One final, minor issue I have is with the algorithm itself. A9, Amazon's search algorithm, favors high short-term sale numbers over lifetime sale numbers. So, a newer, more recent title that's selling a lot will rank higher than an older title that may not have had to chance to build its sales.
Many black romance writers get their start as independent or self-published authors and they may not have the marketing resources to help them get those quick sales needed to rank high. A more refined search would benefit black authors by better connecting their works with the audience searching for them.
Black romance is booming and Amazon is one of (if not the) biggest book seller in the country. It's not unreasonable to ask them to make their inventory easier to search. Doing so would benefit readers and authors alike.
Have you struggled to shop on Amazon's platform? Do you agree or disagree with my thoughts about its search capabilities? Tweet me at @blackchicklit and let me know.