Guys, I am so book-high right now. I was in New York this weekend for the first-ever Book Riot Live and it was amazing. Two days of books and bookish people hanging out in the City That Never Sleeps. How could it not be amazing?
I tweeted and Instagrammed nearly all weekend (which was a fun experience all it's own; I'm usually on the other side helping to run social media campaigns), so I won't bore you with a day-by-day recap of the event. I did, however, want to take time to review the weekend's key takeaways:
#WeNeedDiverseBooks is more than just a hashtag.
Yes, I do realize that #WeNeedDiverseBooks is a legit organization and campaign; however, I'm talking about the sentiment, the notion that we need diverse books. One of the best panels I attended, "Fighting the Good Fight: Turning Awareness Into Action," highlighted three organizations that are taking steps to produce, promote and disseminate diverse books: First Book, The Harry Potter Alliance and VIDA. I can (and plan to) find ways to help all of these organizations.
Hermione burning the midnight oil for her studies https://t.co/cWtW4OWazM

— WeNeedDiverseBooks (@diversebooks) November 7, 2015
The panel also pointed out diverse fiction can be found in fanfiction and YES!!! I have so many feelings about this. But that's a future post.)
That was what made the panel so amazing. It was so practical. If we want people reading more diverse books, we have to share what's out there. Put diverse books in libraries, recommend them to friends and share your own copies. It's such a simple concept, but I found it so empowering.
Rioters are so nice!
I love Book Riot. Not because of their content, though. (I do like their content, though, don't get me wrong!) I love the people. The staff and the readers. I love that whenever they produce something, there is a conscious effort to be as inclusive as possible. I didn't attend a single panel that was made up of all men or all white people or all straight people or all literary fiction writers (you get the idea). Audiences cheered when speakers preached truth about inclusiveness and representation. When attendees checked-in on the first day, they could fill out a nametag with their preferred pronouns. The bathrooms were unisex. Everyone respected everyone's boundaries and space. People greeted each other and were excited for each other. I loved it. I love Rioters.
St. Louis needs better bookstores.
Or at least one giant one. While in New York, I discovered The Strand.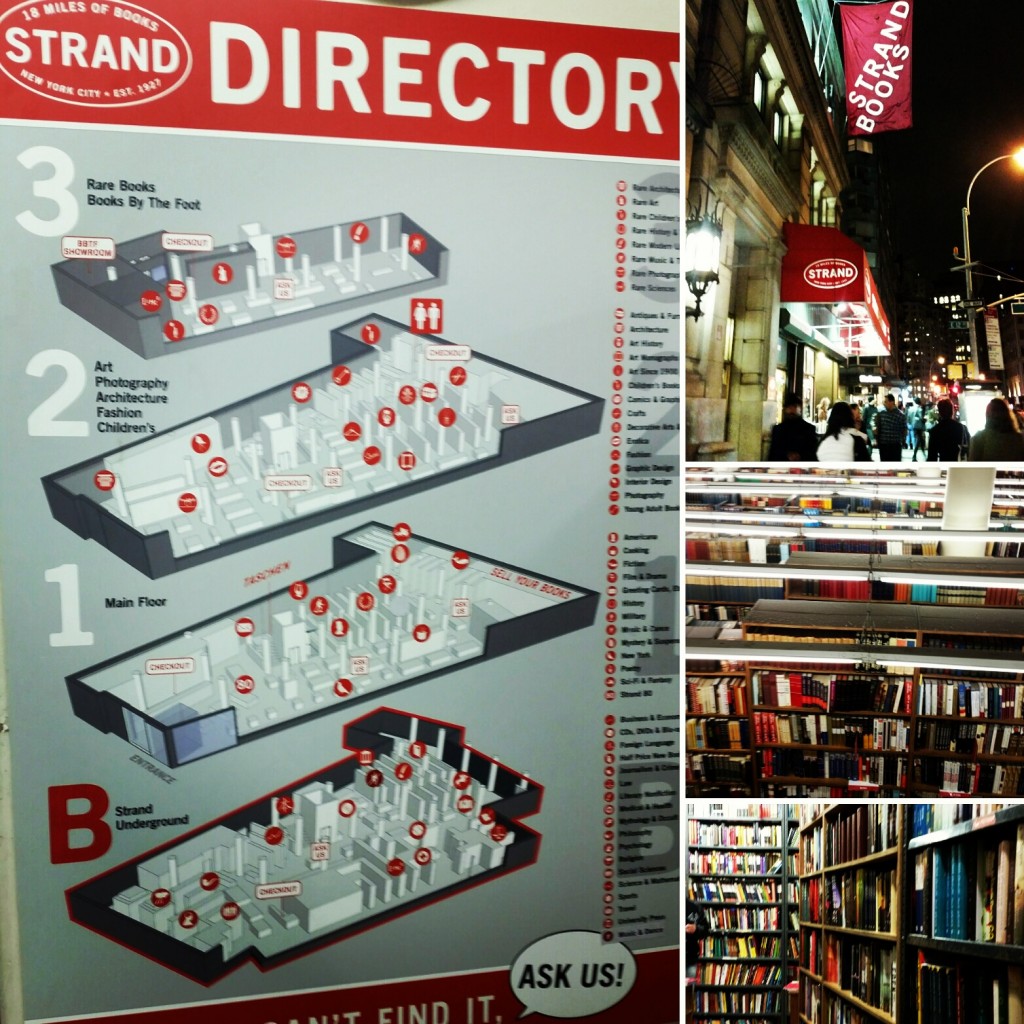 Just … oh my god, THE STRAND. Three levels of floor to ceiling books. A full city block of wall-to-wall books. Before this, the best bookstore I knew of was the John K. King bookstore in Detroit. It breaks my heart that I have nothing like this at home.
I need to read more books by small/independent publishers.
Book Riot Live had a great selection of vendors that I spent too much money on. (Remember how I only spent $18 my first day in New York? I spent six times that on Saturday alone.) Present were a few publishing companies I had not heard of before. I confess, I didn't buy anything from them because I'm hesitant to buy anything that's not published by Random House/HarperCollins/Simon & Schuster for reasons I'm not entirely sure of. I know this causing me to miss out on great books. Probably great and diverse books. As author Sarah MacLean pointed out smaller publishers and self-publishers are more inclined to take risks in writing stories from more unique perspectives.
I want to be Beverly Jenkins when I grow up.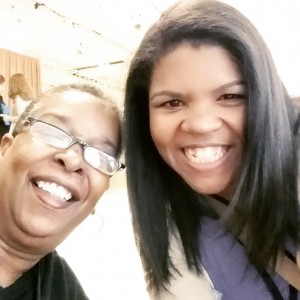 I'm almost there: I love history, I watch football and am Episcopalian. I look forward to authoring 30-plus books and being married for 30-plus years.
Seriously, she spouted so much truth and was so hilarious about it.
Riot Media staff know how to do some event social media.
Look at this text! Look at it!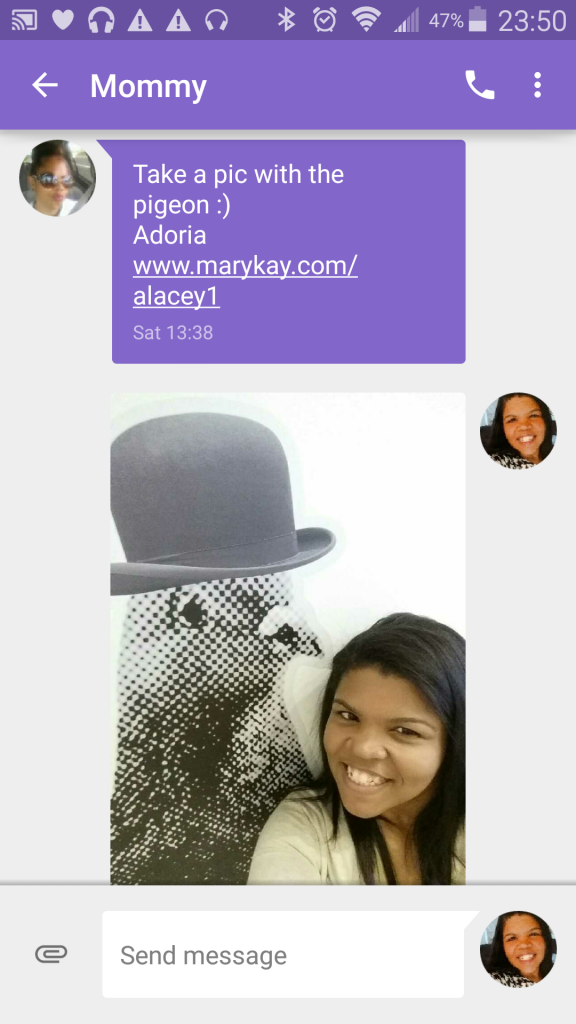 If you can't read it, this is a text message from my mother telling me to go take a photo with the Book Riot Live pigeon sticker. This is the tweet that resulted in me going to the registration desk to inquire about the location of said sticker.
Best question I've gotten while manning the check-in table at #brlive: "Where is the big pigeon sticker? I want to take a picture with it!" — Rincey (@rinceya) November 7, 2015
My mother knew about the existence of this giant wall decal because everyone was so great at tagging things with #brlive. When I came home, my mother — who was 800 miles away — said she felt like she was a part of the event simply because she was following the tags. By the way, SHE TOTALLY SIDE-EYED ME FOR SOME OF THE PANELS I CHOOSE TO ATTEND! (Direct quote: "You should have gone to the book-making panel. I thought that's what you wanted to do.")
Before the event, Book Riot created a Facebook group where attendees could chat and interact weeks ahead of time. As someone who came to Book Riot Live alone and from out-of-town, this was such a comfort. Not only that, interacting with other members of the group prompted me to share more on social media because I knew that there was a place and a group that cared to see it.
It's nearly past midnight and I'm still running on book euphoria. If you went to Book Riot Live, tweet me at either @Dani_Lacey or @blackchicklit and let me know what you thought. I really want to keep in touch with all the awesome people I've met (IRL or through social media). If you didn't go, tweet me anyway and we'll talk books.
Or just leave a comment. Whatever works for you.
Good night, folks. It's not an exaggeration when I say this has been the best weekend I've had in a long time.